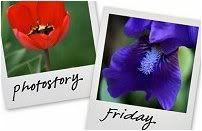 Hosted by Cecily and MamaGeek


My friend Kendra and her husband John own some sweet cars. John is due back from an overseas military assignment this week. Last week their teenage daughter was driving one of the Camaros while her Camaro was in the shop. She couldn't get it started. Heather and I happened to be over for dinner that evening and I told them I'd see if my husband Marty could take a look at it the next evening. I try not to volunteer my husband for tasks without speaking to him first, but knew he'd have a soft spot for a family whose father is serving our country...and he has a love of muscle cars...especially Camaros...that would make him enjoy such a task.
Kendra cooked another wonderful dinner for us while Marty checked out the car. I of course had my camera along and decided to snap some photos. Yes, they may very well be ordinary photos of my husband tinkering with a car...I sight I see often enough....but knew he'd be in Heaven with this particular car.
The first car we owned was a 1967 Firebird with a Camaro front end. We sold the car years later when it became a money pit and we were having difficulty getting a car seat in and out of the back of it. We both still miss that car dearly. One of these days....
Marty worked on the car as Kendra's daughter Erica watched.