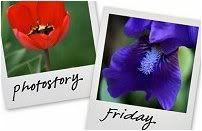 Hosted by Cecily and MamaGeek

My friend
Lisa
has been participating in "Photo Story Friday," and has urged me to do so as well. So, here goes my first Photo Story Friday Post. Click the image above to see what it's all about or to get the how-to for posting your own PSF.
The rules of PSF state I need to state why I took the photo(s) I'm posting. Very simply, and honestly, I took these photos so I'd have a PSF post! Why else? Just keeping it real folks!
The neighbors might be wondering what all the racket is at our place lately. My sweet, hard-working husband is building a deck for our pool so I have a place up out of the fire ants to laze around on when the water in the pool becomes too chilly to stay in!
My husband's a builder, so this kind of project is right up his alley! (Can't you tell from his worn work-boots and scraped hands?!)
Here's the hard-working man himself. Love ya Babe!
Oooohhhh gotta love those muscles!!! ('course he LOVES to flex those muscles to show me
Kenny Chesney's
got nuttin' on him!)