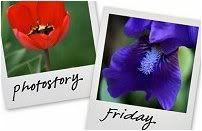 Hosted by Cecily and MamaGeek





Yesterday was my daughter's final day of the school year...she is now officially a SENIOR!!! I can't believe the time has gone so fast! As I prepare for my 20th high school reunion this summer, I have been reflecting a lot on my high school years, especially my senior year.




I hope Heather enjoys her senior year even more than I did, and I hope she continues to be ready to learn all she needs to prepare for her next step.



I just can't belive my baby is growing up so fast and I'm looking at an empty nest in the very near distant future!



It seems just yesterday she was looking up at me from the hospital bed after she was born...
...Heather and me....
.....to one of my proudest moments...watching her stunt with her coach in Olympic Park in Sydney Australia when she was 8...
....she and her daddy cruising Sydney Harbor.....
....to helping her backstage getting ready for a dance recital (one of MANY!!!)...
.....to she and I at her first Dance Masters of America dance contest in Texas when she was 9....





..to her first prom, this year, her junior year....


Heather you've been blessed with so many talents and have so much to offer. Enjoy your senior year, keep working hard, and many many more blessings will come your way! I love you bunches!