It has been VBS all. week. long. As tiring as VBS can be, it is also very rewarding. It is very rewarding due to stories like that of my pal Mason.
If you've been reading here long, or know me personally, you know I worked in the church nursery for several years. Mason was one of the kids I kept in the nursery. I've known Mason for 8 years now. I have also taught his brothers in Sunday School, went to camp with one of his brothers last year, consider his grandparents to be good friends of mine, and love him and his family dearly. Mason and his brothers have always held a special place in my heart. Those boys have had a rough time with their parents, have been abandoned by their mother and are being raised by grandparents who love them very much. While their story could certainly be a tragic one, it is not. Yes, it's a sad one at times, but they are overcoming the things that sadden them thanks to a loving family.
Mason brought me to tears today. His grandma, my friend Linda, asked Mason to let me take his photo with a sign he had. I approached Mason and watched as he unfolded a piece of paper in his pocket. I snapped his photo and read the paper. What I read brought instant tears. This my friends is why I, and everyone else who works in VBS, do what we do: so kids like Mason can learn about Jesus and learn what it means to accept Jesus as their Savior. When I turned around after reading Mason's sign and giving him a big hug, I saw that my friend
Angela
(my pastor's daughter) also had tear-filled eyes. THIS is why people continue year after year to volunteer to work in VBS.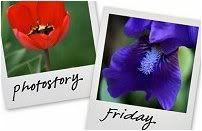 Hosted by Cecily and MamaGeek