I took Friday off to catch up on some housework and prepare for hosting my family on Christmas Day. On top of that, I had a photo session for this beautiful baby girl, Elizabeth. This is my first infant portrait session so it was a freebie so I could put into practice some ideas I had. I sure enjoyed this session and snapped a few photos I love and hope her mommy does too!

Elizabeth receives a kiss from her mama, Lanie:
And yes, what photo session of a little girl is complete without borrowing my daughter's first tutu???
Sights like this just make you want to pick her up and cuddle her, don't they?
What a sweet sweet photo shoot! Thank you Lanie for loaning me your precious baby girl for photos!
Click the link below to see more Photo Story Friday posts: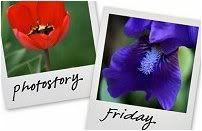 Hosted by Cecily and

Honey Mommy