Last night, as is our annual tradition, we went to the county fair. We always go on Thursday nights to watch the rodeo because that's the night (thanks to our local radion station), we receive FREE admission and ride tickets. Who can resist FREE??? Not me, especially when on a tight budget.
Here are some photos of what I like most about the fair:
all the LIGHTS!!!
And of course we enjoy the rodeo as well!!!
Cool ride to photograph...but you won't catch ME on it!!!
Seemingly popular booth at the fair:
Another popular hangout:
To see more Friday Photo Stories, click the link below: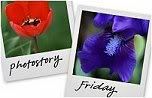 Hosted by Cecily and Angie